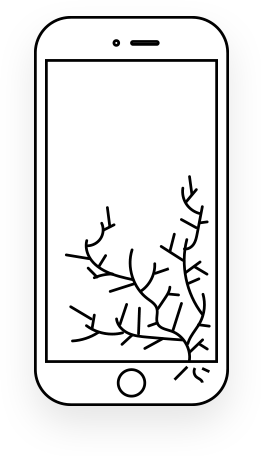 FROM 59.00€
BROKEN SCREENS
Our most common repair! We only use genuine parts in our repairs.
Screen problems are among the most common physical damages to mobile devices. Screen damage can be seen through cracked glass, broken glass, when the touchscreen stops working, or when the image is not displayed correctly. The device may also display defects in the following forms:
Mobile phone screen with vertical or horizontal streaks
Pixelated screen and image
Dark screen
Flashing screen
Touch screen out of calibration
Distorted picture
Reduced quality of the screen or monitor image
Screen blemishes
Visit your nearest GSM & PC Solutions for a free diagnostic and to replace your mobile phone screen in 30 minutes.
BREAKDOWN? WE REPAIR!
GSM & PC Solutions is the market leader in repairs of all types of electronic equipment and has a technical team with extensive professional experience. We only use quality materials that are properly tested and proven to ensure your satisfaction.